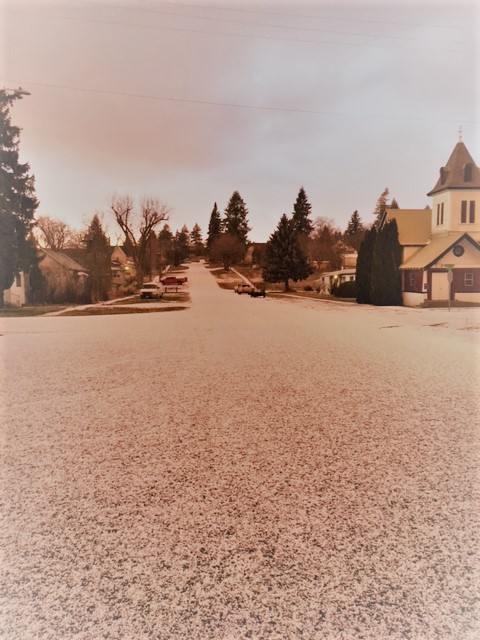 Garfield, Washington

Situated in the Palouse Hills region, surrounded by awe-inspiring scenery and golden wheat fields, presents an idyllic quality which is a refreshing change from the fast paced hustle and bustle of this modern world.
Garfield's local businesses and establishments include a tavern, coffee/espresso and sandwich shop, a meat market, specialty cabinet maker, child care center, the J.E. Love Company and McGregor manufacturing companies and several home based businesses, provide economic opportunities that exceed expectations.
A compact downtown hosts a post office, bank, attorney, beauty shop, cabinet maker, a building contractor, tavern, coffee/espresso/lunch shop, meat market, convenience store and assisted living facility.
A more attractive and friendly town would be hard to find. Although small with a population of roughly 600, the town is well equipped to serve the need of its residents. High quality city services are provided including police, fire, water, sewer, garbage, composting, recycling, road maintenance, and park services. The town boasts an excellent swimming pool and picturesque park.

JOB ANNOUNCEMENT
Click here for Job Application
The Town of Garfield, WA seeks Public Works Superintendent. (Located in Whitman County) http://www.garfieldwa.com. Minimum requirements include experience in construction, repair and maintenance of water, sewer, street and storm drainage systems including the operation of related maintenance equipment, and a high school diploma or equivalent. Supervisory and administrative experience desirable. 1st Aid/CPR card within 3 mos of hire. Certifications within 1 year of hire CDL Class B, Pesticide App License, WDM1 Water Works Operator Cert, Group II WW Operator Cert, Cross Connection Control Specialist. Salary commensurate with experience. Benefit package available. Open until filled. Equal Employment Opportunity Employer. For an application and addl info Contact: Mayor Jarrod Pfaff at garfield-town@completebbs.com. Town of Garfield, P.O. Box 218, Garfield, WA 99130. Fax 509-635-1201.
Clerk's Office
Phone: 509-635-1604
Fax: 509-635-1201
Building Permits
Pay Water/Sewer/Garb. Bills
Dog Licenses
Hours: M-F 10:00 to 6:00
---
Emergency Services
Police Non Emerg:
509-635-1133
Police Emerg: 911
Fire: 911
Non-Emergency Dispatch:
509-332-2521
After Hours Water/Sewer Emergencies:
509-336-9093 Mark
---
News
2011 Comprehensive Plan. Click HERE to review plan.

2016 Water Use Efficiency Report Available. Click HERE to see the report.

2016 Water Consumer Confidence Report Available. Click HERE to see the report

2017-2022 Six-Year Street Plan available on the Town Hall Page

2016 4th Quarter Financial Reports Available on Town Hall page

2018 Final Budget Available on Town Hall page

Regular Council Meeting Minutes - Available onTown Hall page

Regular Council Agenda- Available on Town Hall page
See Town Services page for 2018 Utility Rates
Click HERE for2014 Zoning Code.
Click HERE for Preliminary Zoning Map.

Passed Ordinances / Resolutions now available on the Town Hall page

Feel free to use the online form on the Contact Us page to send comments, suggestions & questions to Town Hall